Estes Park Wildlife Tours
Wildlife Tours are high on the list for many guests interested in Estes Park tours. If you like Discovery Channel or BBC nature specials you will absolutely love to learn on a Wildlife Tour.
On a Wildlife Tour we will try to find the various large and small mammals as well as birds of Rocky Mountain National Park including Elk, Moose, Big Horn Sheep, Mule Deer, Marmots, Pikas, Chipmunks, Ground Squirrels, and if we are lucky Coyotes. Rocky is not a good park to find Black Bears, with only 3-5 sightings a year on our tours.
Wildlife Tours involve a good bit of driving throughout the park and generally only a few minor walks as we explore the park for animals. Depending on the season we will likely drive over Trail Ridge Road, to 12,183 ft and back down to find wildlife in the summer months. When we find wildlife, we will generally park the vehicle and get out if its safe. Throughout the tour we will be sure to talk about all the great and amazing stories each one of these creatures have.
Binoculars and spotting scopes are provided for every guest and with them we can often find wildlife that most other folks never see. Our record for one day is finding 14 species on an 8 hour tour. We only see Black Bears 3 or 4 times a year, and have only seen a Cougar twice (ask to see the video on my phone), both of these species are found in the park in very small numbers. Along the way we'll talk about why they are so rare and why wolves and grizzly are no longer found in the park.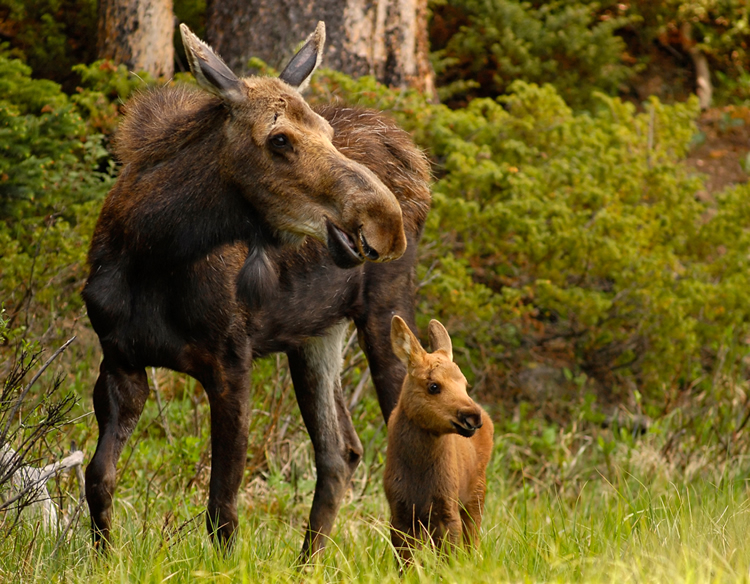 Wildlife Tours are as much about having great sightings as it is to learn about wildlife and Rocky Mountain National Park. We will talk about how they live, communicate, what they eat, learn about funny and meaningful body langauge they use, and some great random facts you will love.
We have two species discovered by Lewis and Clark, find out which ones those are. Learn why coyotes wag their tails and what it means, why ground squirrels are so important to the meadows, learn why most animals can't see the color red, and be amazed at how much elk eat everyday. Along the way we may find the world's smallest chipmuck, the Least Chipmunk, and the world's largest deer, the Moose.
Your Chances of Seeing Wildlife

Wildlife Safaris start BEFORE sunrise for a morning trip, generally the earlier the better. Or in the afternoon 4 hour trips start about 3 to 3.5 hours before sunset. All of our rare sightings happen close to dusk or dawn.
Notes: For most Wildlife Tours a 4 hour trip is recommend. All afternoon tours should be 4 hours. 6 hour tours are only recommended if you want to search out specific small mammal species or you would like to spend extended time to do a short hike or add in Nature Tour elements like wildflowers or other nature interests. 8 hour tours are best split between the morning and evening roughly 4 hours each increasing the number of species we can sight. Also moose sightings end on Sept 20th.
Tour Details: All tours are private, only the people you invite will come along. Groups are limited to four people to ensure each person has a quality experience with our naturalist. Limited to children 12 and up. If your kids are under 16 please read the Safari FAQ to make sure this tour is for your family. Binoculars are available for each person as well as use of a spotting scope to really bring those distant creatures into view. There are a number of stops where we can use the park restrooms. Sunscreen, eco-friendly and optics friendly bug spray, water and healthy snacks are provided for all guests.
*Not included: Park entrance fees are $25 Day pass per car, $35 Week Pass per car or $80 for an annual pass. If you have a Senior, NPS Annual, or Disabled Vet Pass it is free as long as you have your pass and ID. I do not charge for a pass, as many folks already have one.
Check Availability
Summer Tour Fees
| | | | | |
| --- | --- | --- | --- | --- |
| Total for # of Guests | 1 | 2 | 3 | 4 |
| 4 Hour Tour (Most Recommend) | $255 | $255 | $300 | $345 |
| 6 Hour Tour | $385 | $385 | $450 | $515 |
| 8 Hour Tour | $510 | $510 | $595 | $680 |