Year Round Tour Options
Photo Safari
Photo Safaris are for people that want to foucs their trip on getting photos, learning more about photgraphy settings and composition on their camera or even phone camera app.

For Learning and beginner based Photo Safaris we generally visit locations close to the road so we can maximize the amount of time behind the camera that way you can learn as much as possible. Also the best wildlife shots are along the roadways taking only short walks. 4 hour tours are best for beginners starting to learn their camera.

For more experienced photographers we can tailor a trip that focuses on advanced techniques, great landscape locations maybe hiking further into the park, or taking some great wildlife shots. Check out the seasonal Photo Options on the Photo Safari page.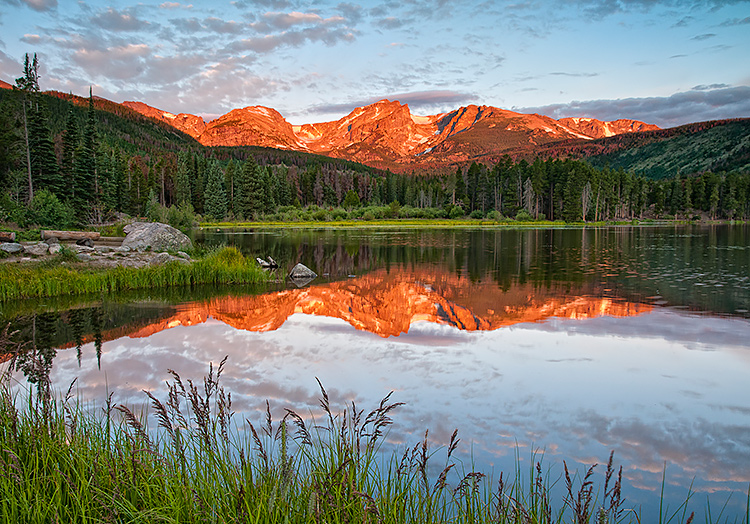 Summer Tours | May - Early October
Wildlife Safari
Wildlife Tours goal is to see as much wildlife as possible, learn, and observe their behaviors. We drive through the park making many stops. With binoculars and a spotting scope we can often find wildlife that most other folks never see. Everyone tells us after a wildlife tour that they saw more animals and learned more about them then they would have ever if they just went through the park on their own.
Nature & Sightseeing Tours
Sightseeing Tours are designed to see the park and everything it has to offer. We'll drive the park roads making many stops at amazing overlooks, great mountain views, and see wildlife, but the point isn't to just watch wildlife.

Nature Tours are directed by you and your interests. We'll spend plenty of time taking in the beauty the park has offer. We may take short walks to some great park features, we can discuss flowers, birds, ecology, local history, or a bit of everything. You let us know how you want to experience and learn about in Rocky Mountain National Park from just seeing the sights or diving deep into Nature topics besides just wildlife.
Hiking Tours
Hiking Tours are 4, 6, or 8 hour morning hikes to Rocky Mountain National Park's lakes, waterfalls, and alpine mountain views. Generally for the physically fit, these trips take us to the back country of Rocky to see sights that most tourists never see. We drive to the trail heads very early in the morning and have the trails mostly to ourselves avoding crowds and afternoon thunderstorms. Along the way we'll see mountain streams, flowers, birds, and a few small mammals. But don't count on seeing much wildlife on a Hiking Tour. Only Available in the morning.
Summer Tour Rates (Total Is Shown NOT Per Person, rate is the same for 1 or 2 guests)
| | | | | |
| --- | --- | --- | --- | --- |
| Guests | 1 | 2 | 3 | 4 |
| 4 Hour Tour (Most Recommend) | $255 | $255 | $300 | $345 |
| 6 Hour Tour | $385 | $385 | $450 | $515 |
| 8 Hour Tour | $510 | $510 | $595 | $680 |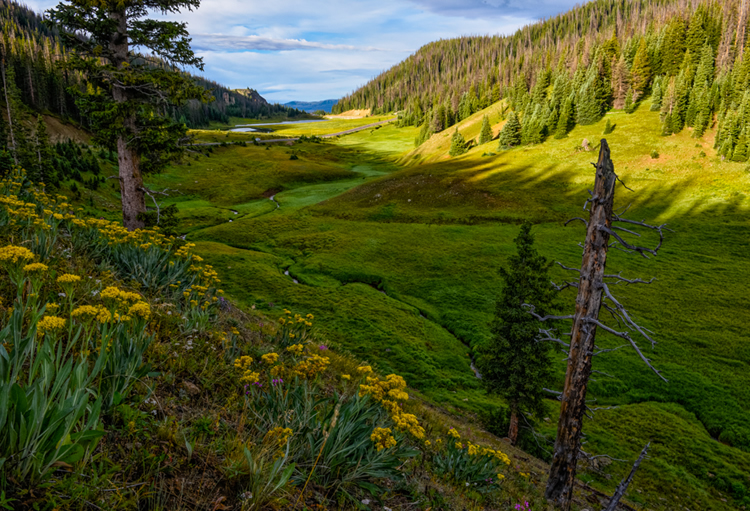 Fall Special Elk Rut Safari
Elk Rut Safari
Elk Rut Safaris (Only Sept through Mid-Oct.) finish a fall evening by watching the Elk Rut, which is the annual mating behaviors of the Rocky Mountain Elk. During the rut, bull elk bugle, chase and wrangle females, and if your lucky they might fight other bulls. We often see some amazing behaviors as young males fruitlessly try to impress the ladies, and watch the big males show their dominance. We park along the park's low meadows in the evening, and we'll talk about the behaviors we see, which can be very entertaining. We'll give you the play by play and you'll laugh when you see how elk life is just like high school. Depending on the length of a tour we can also look for other wildlife earlier in the day.

Winter Tours | Mid October - April
Winter Wildlife Safari
Winter Wildlife Safaris are 3.5 hour tours looking and learning about the wildlife around Rocky Mountain and Estes Park. Wildlife in the winter season is often much closer to the road, and until March the elk and deer still have their antlers. This is a driving tour with many stops. Generally we find elk, mule deer, big horn sheep, turkey, and if we are lucky coyote.
Winter Nature Safari
Winter Nature Safaris are 3.5 hour tours to explore the nature of the park not just it's wildlife but all of the winter wonderland's forests, plants, history and more. This trip depends a lot on your interests, and we can customize a trip around what you would like to learn about and experience. We'll take easy walks as well as drive to a number of locations. Sightseeing is the not the main focus of this tour but some can be added if the weather allows.
Snowshoeing Tours
Snowshoe Safaris are the winter (Late November - March) equivalent of the summer hiking tours. If you can walk you can snowshoe. Unlike hiking however when we head down from our destination we look for ways to have as much fun as possible. This can include off trail snowshoeing in deep snow, sliding down steep sections, and snowshoe skiing for very short distances. Or we can stay on the trail and play it safe. We never see large game while snowshoeing.
Winter Tour Fees (Total Is Shown NOT Per Person, Rate Is The Same For 1 Or 2 Guests)
| | | | | |
| --- | --- | --- | --- | --- |
| Guests | 1 | 2 | 3 | 4 |
| 3.5 Hour Tour (Most Recommend) | $175 | $175 | $210 | $245 |
| 6 Hour Tour | $300 | $300 | $345 | $390 |
| 8 Hour Tour | $400 | $400 | $460 | $520 |