Hiking Tours are destination goal oriented. We'll be sure to point out amazing park features like geology, plants, and cool nature along the way. We don't climb mountain peaks on tours but we can hike from a half mile up to 10 miles if you want.
If your comfortable hiking in other National Parks or natural areas you may not need a guide unless you always find yourself wishing you could ask someone what different flowers, geological features or birds are along the way.
Rocky Mountain National Park has 364 miles or so of trails. Rocky's charms are many in the back country and each mile you go the scenery just keeps getting better. Rocky's trails are very popular in the summer season with limited parking, and with the threat of afternoon thunderstorms, mornings are the best and only time to have the trails to ourselves and have the best views. All the trail heads are a half hour drive from Estes Park.
Hiking Poles are available for clients, and in the icy months traction spikes are also provided. May to Mid-June trails will be icy and snow covered so some options may be limited for safety.
We rarely see large animals on hiking trips during the summer months, every few trips you may find an elk. If your interested in wildlife check out the Wildlife Tours. Limited to 4 guests and children 12 and up.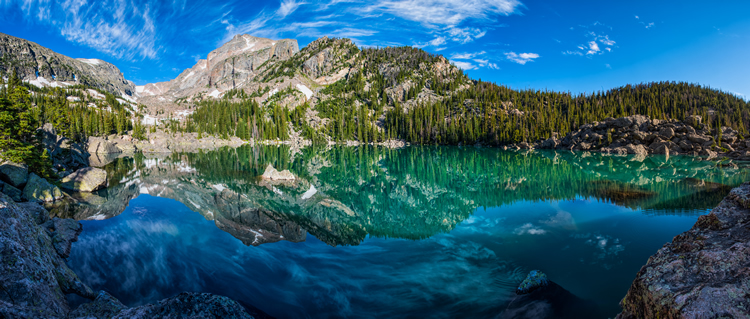 Most trips are best if we start between 5am - 6am, the earlier the better. Hiking Tours are only available in the mornings due to the high risk of thunderstorms.
Every trail in Rocky Mountain is uphill and rocky so each trip is detailed with a scale of difficulty. Also noted is round trip distance. Faster hikers can do the Medium difficulty hikes in 4 hours.
●Easy hikes can be handled by anyone in good condition that walks regularly 1-3 miles, from kids to folks into their 80's. But we will stop often to catch our breathe.

●Medium hikes are for people who are active year round and are capable of going 5-8 miles a day in lower elevations.
●Hard hikes are for folks who are extremely active and in very good shape that want to get out where only a few dozen folks a day get to.
Hiking Trip Options
Click Bold Destination Title for Picture
Dream Lake - 4 hours - 2.2 miles - Easy - The hike up to Dream Lake is one of the destinations I think everyone who comes to Rocky Mountain National Park must see. Along the way we'll see the Lily pad covered Nymph Lake, the outlet stream with some cascades, amazing views of Long's Peak, and then Dream Lake. On the way back we'll pass Bear Lake as well. There are great flowers, pine squirrels and if your lucky a snowshoe hare along the way. Often we'll have time to drive lower and look for wildlife or walk around Sprague Lake.
Dream Lake and Emerald Lake - 4 hours - 3.6 miles - Medium - Depending on how fast you hike we could potentially see Dream Lake and head up to Emerald Lake which offers more great views, a small waterfall, and emerald blue water at the base of Hallet's Peak. This part of the trail has a lot of steps between Dream and Emerald. (See above for details on Dream Lake)
Dream, Emerald and Haiyaha Lakes (Opens Mid June) - 6 hours - 5.6 miles - Medium- Dream Lake is the junction of two trails, one up to Emerald Lake, and the other to Lake Haiyaha, which in Arapahoe means "Lake of Rock." The water here is also emerald blue, but the trail offers views of Chaos Creek, Glacier Gorge, and Chaos Canyon looking up toward the Continental Divide. (See above for details on Dream Lake)
Mill's Lake - 4 or 6 hours - 5.4 miles - Medium - The hike up to Mill's Lake starts off with some great canyon views, then Alberta Falls. Heading up a trail that zigzags past glacial knobs you climb over a rocky slab we'll see Glacier Falls and the cascading Glacier Creek. Mill's itself is below Long's Peak and the view up Glacier Gorge is absolutely amazing.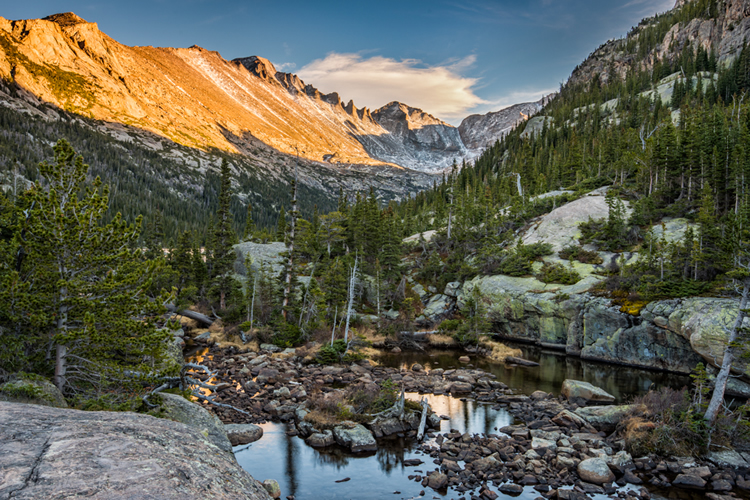 Mill's Lake Trail
The Loch - 6 hours - 5.6 miles - Medium - The Loch starts on the same trail as Mill's Lake so we'll pass Alberta Falls. The Loch's appeal is the fact that most of the lake is surrounded by rocky cliffs towering over the entire area. Its just an amazing sight to behold. There also is a nice cascade along the way, and some great scenery along the trail.
Mill's Lake & The Loch - 8 hours - 7 miles - Hard - Hike up to two of the great alpine valleys on a single hike. They are both beautiful in their own unique alpine lake way. (See above for more details.)
Glacier Gorge Lake Loop - 8 hours - 7.5 miles - Hard - On this full day hike we'll visit Dream Lake, Lake Haiyaha, The Loch, Mills Lake, Alberta Falls, and Bear Lake. By going the right direction more than half the trip is downhill. The variety of destinations and views will literally be breathe taking.
Wild Basin Waterfalls to Calypso Cascades (Currently Closed) - 4 hours - 3.8 miles - Medium -Wild Basin offers very few mountain views but it follows the St. Vrain River. Each mile you go offers you another waterfall. Calypso Cascades tumbles for 200 feet and you are misted along the bridge of this amazing view. June may offer you views of Calypso Ladyslipper Orchids for which the fall is named. We'll also see Copeland Falls, many wildflowers, and more small cascades along the way. (Only after June 5th due to icy trails and snow covering the cascades)
Wild Basin Waterfalls to Ouzel Falls- 6 hours - 5.4 miles - Medium - Ouzel Falls, the largest fall in the park, is a beautiful single 30 foot fall rushing over a granite cliff. Along the way we pass Calypso Cascades and Copeland Falls. We'll also hike through the Ouzel Fire burn and see how the forest is regenerating a few decades after the fire. Like Calypso this trail has many great wildflowers, and with luck we'll also see an American Dipper, also called the Water Ouzel, the only aquatic songbird in North America. (Only after June 5th due to snow)
Custom Hikes - 6 to 8 hours - 5-10 miles - Medium to Hard - There are hundreds of great destinations in Rocky Mountain. We don't do summit hike except for Flattop Mountain. You let us know what kind of hiking experience your looking for.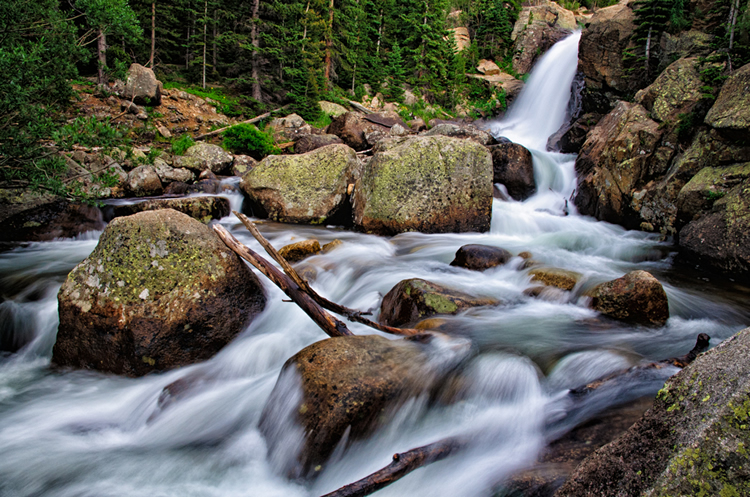 Alberta Falls
Tour Details: All tours are private, only the people you invite will come along. Groups are limited to four people to ensure each person has a quality experience with our naturalist. Limited to children 12 and up. There will be restrooms at the trailheads. Hiking poles, ice cleats, and gators are available when needed. Sunscreen, eco-friendly and optics friendly bug spray, water and Quacker Oat granola bar are provided for all guests.
*Not included: Park entrance fees are $25 Day pass per car, $35 Week Pass per car or $80 for an annual pass. If you have a Senior, NPS Annual, or Disabled Vet Pass it is free as long as you have your pass and ID. I do not charge for a pass, as many folks already have one.
Check Availability
Summer Tour Fees (Total Is Shown NOT Per Person, Rate Is The Same For 1 Or 2 Guests)
| | | | | |
| --- | --- | --- | --- | --- |
| Guests | 1 | 2 | 3 | 4 |
| 4 Hour Tour | $255 | $255 | $300 | $345 |
| 6 Hour Tour | $385 | $385 | $450 | $515 |
| 8 Hour Tour | $510 | $510 | $595 | $680 |