Winter Best of Rocky Tours
Winter time is an amazing time of survival and adaptation in Rocky Mountain National Park. Let's go out and explore some of these great stories. Being amazed by nature is all in asking the right questions, like how can trees grow out of rocks, or how that rock got there. The answers will blow your mind.
Winter Naturalist led Ecology Safaris are customized to your interests; you tell us what we are interested in and that is what we will focus on. We can ramble through different ecosystems looking at the trees, animal tracks, and other features that most people would never notice. Some topic ideas for you would be: forest ecology, predator prey relationships, winter botany, local history, geology, climate change impacts, winter birds, and a whole lot more.
Since only Bear Lake Road, Route 34 and Route 36 are open this time of the year some views are limited but still spectacular along the roadways, so we can spend some time sightseeing weather permitting, but the main focus is on discussing ecology, nature and taking short walks and stops through out the park.
Winter Weather Info page for complete details on how bad or nice the weather can be in Rocky.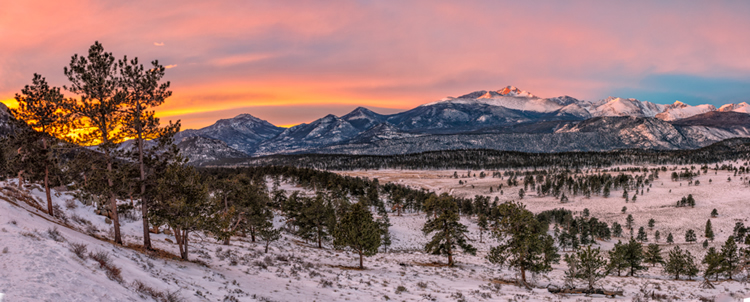 Tour Details: All tours are private, only the people you invite will come along. Snowshoes, poles, and gators are included with the tour if needed. Groups are limited to four people to ensure each person has a quality experience with our naturalist. Limited to children 12 and up. If your kids are under 16 please read the Safari FAQ to make sure this tour is for your family. Binoculars are available for each person as well as use of a spotting scope to really bring those distant creatures into view.
Sunscreen, water and snacks are provided for all guests. Be sure to dress warm and in layers. Ankle high winter or hiking boots are also recommended. Avoid cotton socks and jeans as they absorb water. Warm people have more fun.
*Not included: Park entrance fees are $30 Day pass per car, $35 Week Pass per car or $80 for an annual pass. If you have a Senior, NPS Annual, or US Veterans and Active Duty Pass it is free as long as you have your pass and ID. I do not charge for a pass, as many folks already have one.
Yellow Wood Guiding is Authorized by the National Park Service, Department of Interior to conduct services in Rocky Mountain National Park. Fees for service are strictly for educational nature experiences and photography instruction, not transportation.
Check Availability
Winter Tour Fees (Total Is Shown NOT Per Person, Rate Is The Same For 1 Or 2 Guests)
| | | | | |
| --- | --- | --- | --- | --- |
| Guests | 1 | 2 | 3 | 4 |
| 3.5 Hour Tour (Most Recommend) | $225 | $225 | $260 | $295 |
| 6 Hour Tour | $400 | $400 | $445 | $490 |
| 8 Hour Tour | $525 | $525 | $585 | $645 |