Estes Park Photo Tours - Fall Options
What do you want to shot in the fall?
Unless otherwise stated these tour options can be part of a 4, 6, or 8 hour trip.
Don't see the option you want, we can customize a trip just for you.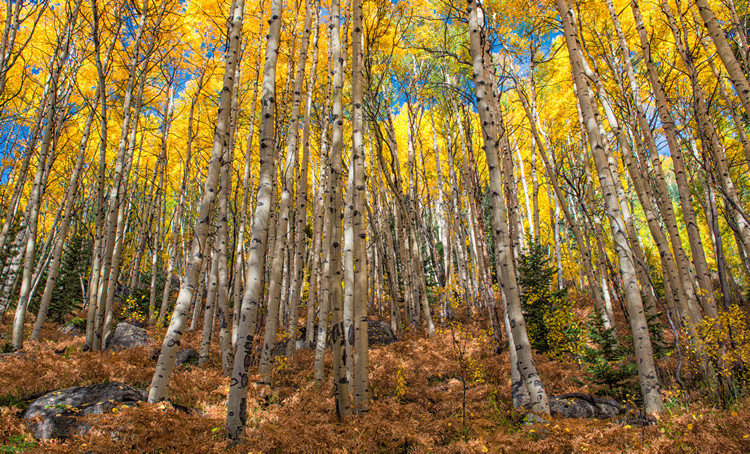 NOTE: Generally we can not get parking for Aspen Shots if we target Elk in mid-September mornings. Parking is extremely limited in the Aspen areas, and fills up nearly at sunrise if not before. You need to choose Aspens or Elk.
Subalpine Aspen Landscapes - The color the Subalpine regions of Rocky offer are amazing. Generally best from Sept. 20th - Sept. 29th. Morning or evening may be best depending on your goals for shooting.
Walls of Aspens - As the color moves downhill the Aspen take center stage and fill the frame entirely. This is a great time for the classic shots of aspen trunks and the canopy all in yellow. Sept. 24th - Oct. 10th. Generally best in the morning and mid-morning.
Aspen Leaf Macros - Sept. 20 through October 15th - Generally there are some great Aspen leaves for macro photo opts.

Click for a detailed list of Wildlife
Elk Rut - Sept. 8th - Oct. 20th is the Elk's rutting season. Each morning and evening, dozens and sometimes hundreds of elk congregate in the park's meadows. Mornings offer less crowds but the time the elk are out is generally only about an hour after sunrise. In the evening we can have 1.5 and up to 3 hours of elk action if it is cool enough. Evening offers some of the best light. If you want to see elk fighting show up within the first 2 weeks of the rut, the earlier generally the better but your chances are extremely slim to see a fight. Later on during the Elk RUt in October they leave the national park and head for the green grass areas of Estes Park like the golf courses. During this time wild shots are harder to get but headshots and fights are a bit more common.
Pikas and Marmots - These guys are still active in early to mid September and can be great fun to shot. This requires Trail Ridge Road to be open. 60-80% chance of seeing them.
Moose- Sept. 1st - 8th Moose rut at the same time as the elk. Moose can be found unpredictably on the east side of the park near some of the low elevation lakes in early to mid September. After that moose become very hard to find. 75% to see a moose cow, 10% for bull moose before Sept 8th. Only 5% chance after Sept 9th.
Bighorn Sheep- Bighorns can be found starting in early September in an area outside of the national Park. Usually we can find them at a photographable distance about 40% of the time in September and about 65% of the time into October. We are more likely to see Ewes and Lamb groups, but Bighorn Rams can sometimes be found as well. Later October is the start of the Sheep Pre-rut and finding rams becomes more common. Oct 20th - Nov 28th is best.
Beavers or Muskrat (Evenings Only) - Rocky's beaver population is just starting to come back after major overgrazing from Elk destroying their habitats. Most days we can see the beavers but getting clear shots is about a 40% at our one area. In a area about 20 minutes away there is a Muskrat colony with a near 100% chance to see them close. In that same location there is a 5% chance for moose in the lake as well. They are always in very low light right before dark and almost never out in the mornings.

Sunrises in the fall are often really great. About 70%-80% of the mornings we get great color in the mountains, clear blue skies, very few clouds, a just a bit of wind.
Moraine Park Sunrise - Moraine Park offers a great view of the mountains with a large grassy meadow. Due to closures of the meadows we have to shoot along the road this time of the year. This is a drive up location which requires a start of 30 minutes before sunrise. The elk are often in Moraine Park so they can hinder our access but we can quickly change from shooting sunrise to Elk.
Sprague Lake Sunrise - Sprague Lake offers a great mountain range reflecting in a subalpine lake. Some mornings you can get great reflections, and the wide view offers a good number of compositions. This destination requires a start time 45 minutes before sunrise. Because it is only about 25 minutes from Estes Park this starting destination can be part of a 4, 6, or 8 hour tour, and from here we can focus on more landscapes, macros and flower shots, or look for elk in the morning light.
Moraine Park Grand Overlook Sunrise Medium .25 mile Hike (Sunrise or 2nd location after sunrise) - Moraine Park is a grand glacial valley, and after this short but steeper 175 foot climb we gain a fantastic high view over the entire valley, with the river snaking below in the green meadows with a large view of Stones Peak. This short hike will take most fit people about 15 minutes with a few stops to catch your breath, so it requires a 45 minute before sunrise start. From this location we can also shoot a very nice view of Long's Peak, as well as a different view of the Mummy Range. There are also some flowers, lichen, fallen trees, and rocks for Macro shots. From here we can go down into Moraine Park or travel the rest of the east side of the park for wildlife or landscape options.
Dream Lake Sunrise (4 hour tour) Easy to Medium Hike - Sunrise at Dream Lake is one of the best 1 mile hike photo spots in the park, and it produces some fantastic photos. It is an easy hike for fit individuals, medium difficulty for folks from lower elevations and are not as active. This tour requires a start of 1 hour and 30 minutes before sunrise. This trip takes about 3 hours with a few great side trips like Nymph Lake, a cascading stream, and some great overlooks. With the last hour we can focus on marco, small mammal wildlife, or other landscape options like Moraine Park or Sprague Lake. This option will not offer Elk shooting after sunrise.
Dream Lake Sunrise and Lake Haiyaha (6 hour tour) Medium Hike- Like the tour option above we photograph Dream Lake at sunrise with the 1 hour and 30 minute before sunrise start. After sunrise we can photograph the cascade below Dream Lake to produce the silky water effect. Then head up the additional 1 mile to Lake Haiyaha and Chaos Creek for great reflection shots and amazingly giant rocks. This option will not offer Elk shooting after sunrise.
Tundra Sunrise - Sunrise is amazing anywhere in the park, but sunrise on the tundra can be breath taking, literally. It could be 20 degrees in the morning. But you can watch as the mountains come to life with the warm pinks and orange light of sunrise. This option requires a 1 hour before sunrise start. This option will not offer Elk shooting after sunrise. NOT AVAILABLE after October 1st.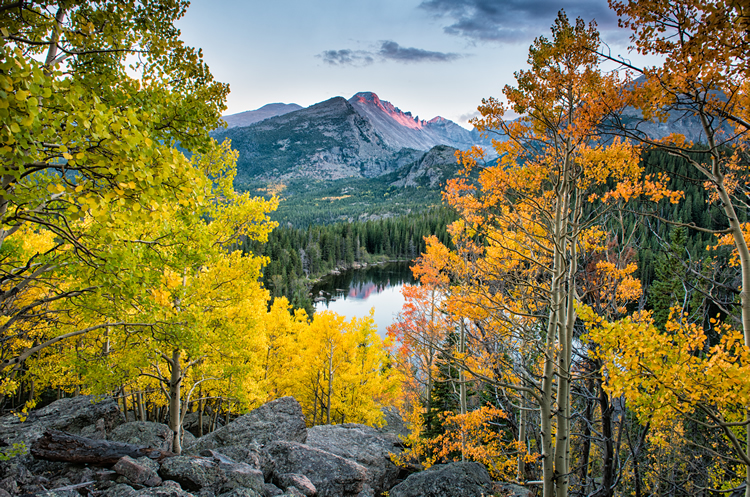 Sunsets in Rocky are not as reliable as sunrise. The standard fall weather pattern is blue skies in the morning with building clouds and a potential thunder storm in the afternoon. Generally right before sunset the clouds break, but there are a number of nights that the clouds never break.
Evening Mountain Lake (above) - This end of the tour option ends with an easy to get to mountain lake with great mountain scenery.
Tundra Sunset - Sunset on the tundra can be amazing but also very cold. Shot from locations Ansel Adams shot and from others even more spectacular. (Available until Trail Ridge Closes)
Waterfalls
Waterfall shots are best during cloudy weather, or just after sunrise still in the shade, or before sunset. Often waterfall shots are the consolation prize for a cloudy day. The park offers a number of great falls.
Waterfalls of Wild Basin (6 or 8 hour tour) Medium Hike- Wild Basin is just that, Wild, with a number of great waterfalls. Each mile you hike you get another waterfall. This option is a 4-6 mile round trip hike, and is best when we have cloudy weather. I would generally only recommend this option as a Plan B when the weather prevents the more grand landscape options.
Glacier Creek and other Falls- Fall offers some great chances to photograph river cascades and waterfalls as they reduce in strength as the snow melt ends for the year.