Best of Rocky Tours
Naturalist led Rocky Mountain National Park Tours
Visit the best roadside Rocky Mountain views, subalpine lakes & waterfalls.
Yellow Wood Guiding offers private Estes Park Guided Tours of Rocky Mountain National Park in Estes Park, Colorado.
---
Best of Rocky Tours are only offered in the morning, and late evening. Morning tours often start just before sunrise so we can enjoy that amazing moment and avoid the large mid morning crowds, get parking at every location we want visit in Rocky Mountain National Park. Bear Lake Parking Lot often fills up by 7:30am in the summer months and doesn't clear out until about 4pm. Evening tours will start roughly 4 hours before dark to avoid the crowds and summer afternoon thunderstorms that end around 5pm most days.
Estes Park Tours | May - October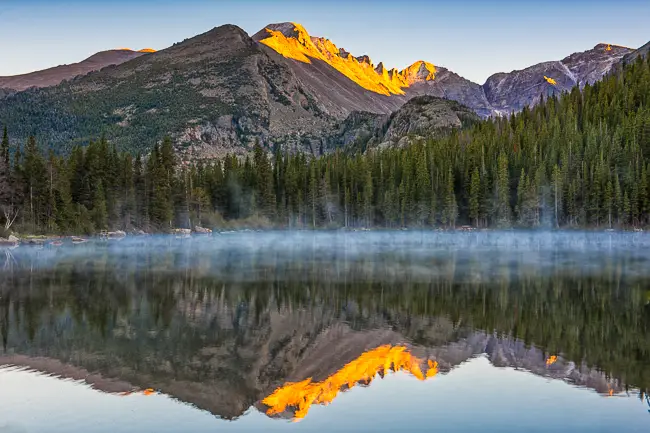 4 Hr Best of Rocky Tour - Bear Lake & Trail Ridge Road
Naturalist led guided tour of Rocky Mountain National Park's best mountain views, subalpine lakes like Bear Lake and Sprague Lake, forests, flowers, glacial valleys, alpine tundra along Trail Ridge Road and any animals and nature along the way.
Book Now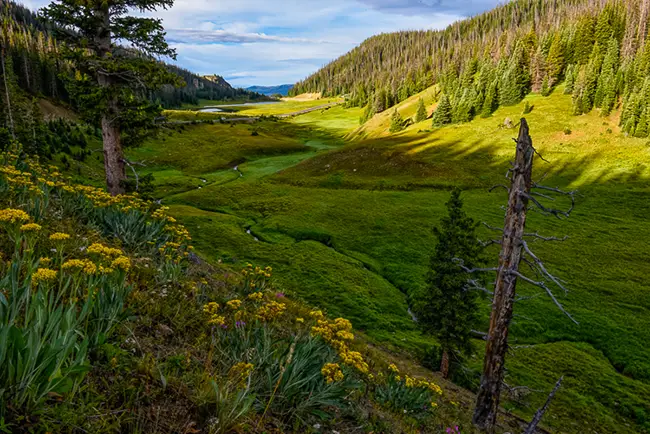 4 Hr Nature Nerd Tour
Naturalist led Nature Walks, if there is a Nature topic you love, we can dive deep into all of the different sciences to expand your world while learning about the Estes Park rocky mountain region's biology, ecology, botany, birds, flowers, and history. A nerd is a person extremely enthusiastic on a particular subject.
Book Now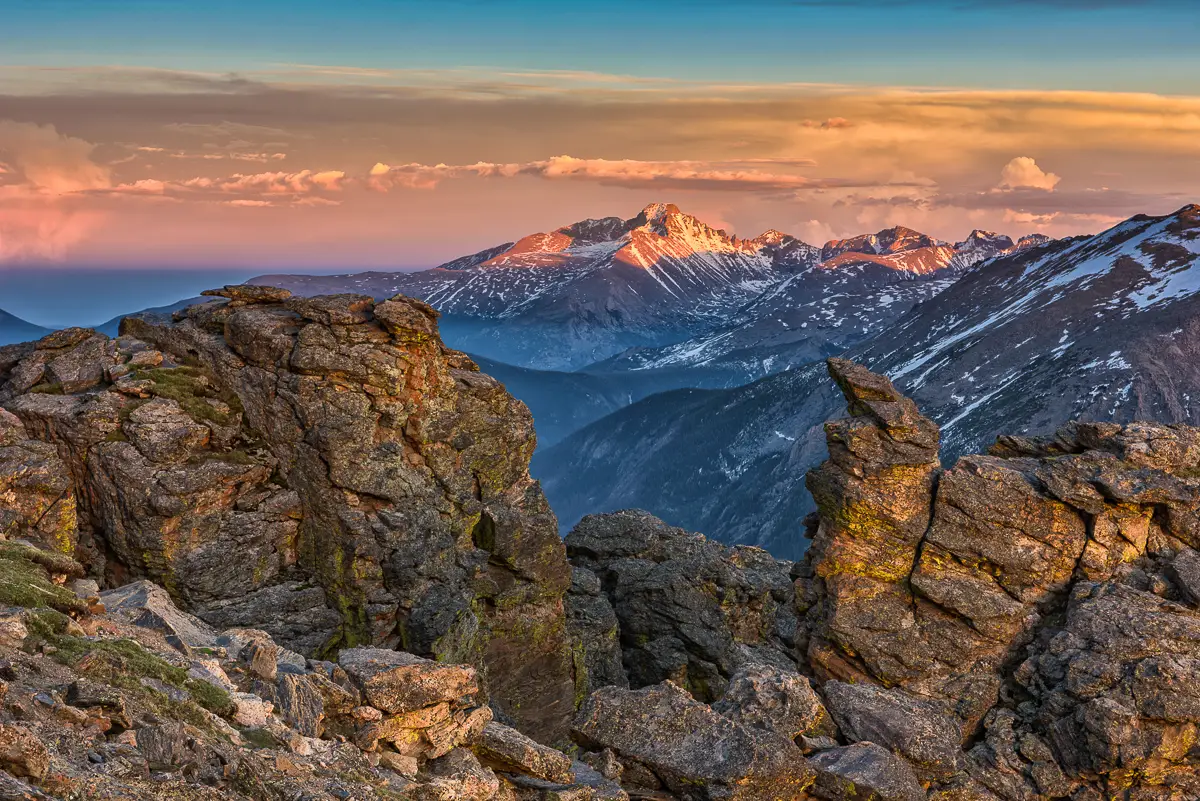 8 Hour All the Best of Rocky Tour
Explore all of Rocky Mountain National Park along the paved roadways on this split day morning and evening tour. We can see Sunrise and Sunset getting the best parts of the day. We'll generally start with the Bear Lake Road area including Bear Lake, then Sprague Lake. Both of these walks are a few hundred yards each way offering wonderful views before they get busy in the mid morning. Continue on to Moraine Park for a lower grand glacial valley view. With 8 hours of time we can either drive Trail Ridge Road to the Alpine Tundra above 12,000 ft. or once open (early July) head up Old Fall River and down Trail Ridge Road. There are so many amazing views on Trail Ridge with roadside stops, distant waterfalls and lakes visible only in the spotting scopes and shorter walks to experience the highest continuous paved highway in the continential United States.
Customized to your interests, we can make a number of stops throughout the day at grand views, shorter waterfall walks and the aboundance of nature Rocky Mountain National Park Tours can offer. In the evening session we can spend time on Trail Ridge Road beyond the continential divide, look for wildlife, and see the rest of the park we didn't in the morning session. We could also instead do a 4 hour Hiking Tour in the morning, and then a 4 hour evening Best of Rocky Tour to see the park on foot and on the road.
Book Now
Best of Rocky Tours
Best of Rocky Tours are learning and experience focused on the best Nature, Ecology, Glacial Lakes, Valley Vistas, Tundra, and Mountains Rocky has to offer. Travel with our naturalist on the road and on foot to explore Rocky Mountain National Park from its glacial valleys of Moraine Park, subalpine lakes like Bear Lake and Sprague Lake, mountain forests, and the amazing tundra of Trail Ridge Road reaching 12,183 feet above sea level. Our naturalist will guide you to those special places most folks pass by or point out things most people would never notice.
Most years Trail Ridge Road will partially open around May 15th to Rainbow Curve at 10,875 feet offering fantastic views. Trail Ridge Road will fully open on the Friday before Memorial Day, with a high chance of snow temporarily closing on and off until about June 5th. Each year Trail Ridge Road will close when we get enough snow usually in October. Bear Lake Road, Deer Ridge, and Many Parks Curve are open year round offering many amazing opportunities.
Visit spots along the park's roads and trails, and look at them through the trained eye of an experienced naturalist. This is much more fun and educational than just driving, stopping, looking for a moment, and moving on. We will dive into the details of the park and what makes it tick, so you can truly appreciate the grandeur of what you see.
Each trip is customized to your interests, we can discuss and focus on anything, such as seeing a waterfall, or just roaming the meadows looking for cool plants or birds. Nature's stories are amazing, all you need to do is have someone point them out and you will never see the world the same. Our naturalist is well versed in Rocky Mountain National Park's wildlife, birds, flowers, geology, local history, and much much more.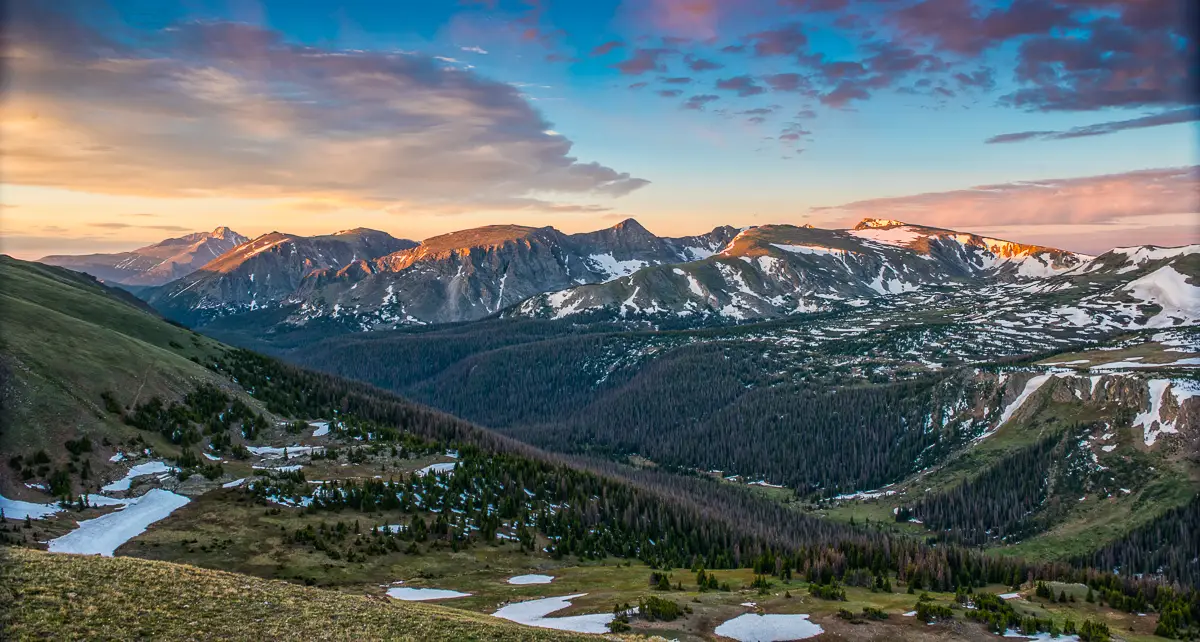 Locations we may visit depending on your goals:
Bear Lake Corridor Area: Bear Lake, Sprague Lake, Moraine Park, Glaicer Creek
Eastern Rocky Lower Valleys: Upper Beaver Meadows, Horseshoe Park, Alluvial Fan Falls, Endo Valley
Trail Ridge Road: Many Parks Curve, Rainbow Curve, The Knife Edge, The Ute Trail, Forest Canyon Overlook, The Rock Cut, Gore Range Overlook, The Alpine Visitors Center, Medicine Bow Curve, The Continental Divide at Poudre Lakes, Farview Curve, Holzworth Historical Site, Colorado River.
If you want to see some amazing sights and you are willing to hike be sure to check out the Hiking Tours.
---
Nature Nerd Tours
Nature Nerd Tours are more trail oriented to really get into the amazing details and stories mother nature holds. These Naturalist led Nature Walks and Tours we never hike very far, there is just too much nature to see. We'll also drive to various locations in the park, but spend more time on the stories and topics that you're most interested.
This tour is entirely customized for your interests. Our naturalist is extremely well versed in nearly every nature subject Rocky Mountain National Park has to offer including, Ecology, Biology, Birding, Botany and Wildflowers, Forest Ecology, Fire Ecology, Predator Ecology, Glaciology, Native American History, Local History, and much more.
Note: We can mix a Nature Tour with a Wildlife Tour. Let us know what you're most interested in.
---
Summer Tour Fees May - Mid October
(Total Is Shown - NOT Per Person, Rate Is The Same For 1 Or 2 Guests)
Guests
1 or 2
3
4
4 Hour Tour Total (Most Recommended)
$310
$355
$400
8 Hour Tour Total
$655
$725
$800