Estes Park Winter Wildlife Tours
The Winter months in Rocky offer plenty of great wildlife sightings on early morning and evening Wildlife Tours, with many encounters occurring just outside the car window. If you like Discovery Channel or BBC nature specials you will absolutely love a Wildlife Tour. Beyond looking for and observing animals, we'll talk about their behavior, ecology, adaptations to survive the winter, and other really cool details.
Winter Wildlife Tours involve a good bit of driving throughout the park and the town of Estes Park, making many stops along the way, and generally only a few minor walks as we explore the park for animals. On an average winter day we will find Elk, Mule Deer, Pine Squirrels, Wild Turkey, Prairie Dogs(on nice days), Birds of Prey like Red tailed Hawks, Bald and Golden Eagles some days and most winter days we find Bighorn Sheep ewes and lambs and the occassion great sighting of Bighorn Sheep Rams. Some days we see Coyotes, but they have become more rare sightings over the years. Depending on the time of year we may find more wildlife around the town and suburban areas of the Estes Park region and not as much in the National Park, especially in late October through November, and again in March and April.
Tours are only offered in the early morning and late afternoons to maximize sightings, few animals are out in the mid day. All tours will start or end in the dark to maximize large mammal sightings. On average the only difference between a morning and afternoon tour is elk are often closer to the road in the mornings, but not always. Morning tours do run the risk of the roads not being completely plowed if it snowed the night before. The larger Rocky winter species don't eat snow, they migrate to much lower areas with exposed grass so we won't be snowshoeing for animal sightings.
Click to see your chances of seeing wildlife
November is prime time for the Mule Deer rut, Bighorn Sheep and Elk are very active and it snows very little. With some luck we can also find Coyote. Late October through early December is the Bighorn Sheep rut with rams smashing into each other at 35 mph, and if you're lucky you can hear the echo of their collisions over a mile away.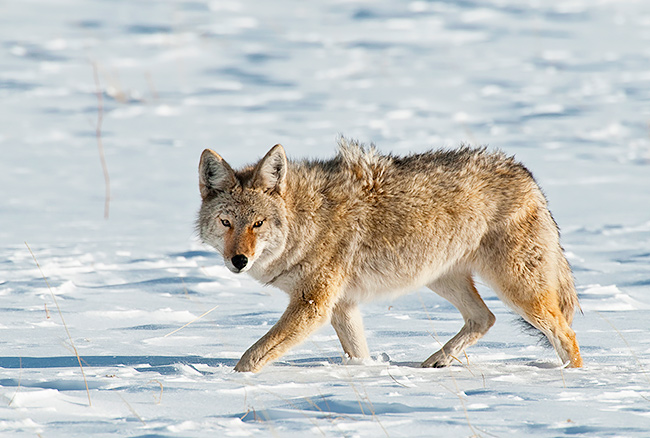 The New Year brings more snow and investigating animal tracks made by snowshoe hares, bobcats, elk, deer, sheep, mice, pine squirrels, birds, and coyote can be great fun. Each track tells the story of survival in the snow. Wildlife is still readily seen, especially the elk, turkey, and deer. Late February through April is prime time for big horn sheep as the female and lamb bands come down to the lower hills almost everyday. If you are lucky the big horn rams will show up as well.
March is the beginning of Spring and some years we are lucky to find nesting Great Horned Owls, Bighorn Sheep ewe bands become more visible, coyotes are hunting in the meadows and close the end of March the hibernating animals like ground squirrels, chipmunks, and marmots start waking up. March is also Spring Gobbling season and we often see Wild Turkey flocks and sometimes fanning males. Around mid-March all of the Elk and Mule Deer have lost their antlers and in April they start shedding their heavy winter coats.
Winter is also a great time to see the various bird species that spend winter with us, nothing warms your cold toes like the song of a flock of Mountain Chickadees. Birds like Magpies, Stellar's Jays, Clark's Nutcrackers, Crows, and Ravens are all out showing just how smart they really are surviving the winter and having fun in the snow. We also find Red-tailed Hawks, rarely Golden Eagles, and if Lake Estes has open water Bald Eagles.
Winter Weather Info page for complete details on how bad or nice the weather can be in Rocky.
Tour Details: All tours are private, only the people you invite will come along. Tours are absolutely limited to 4 guests. Limited to children 12 and up. If your kids are under 16 please read the Safari FAQ to make sure this tour is for your family. Binoculars are available for each person as well as use of a spotting scope to really bring those distant creatures into view. There are a number of stops where we can use the park restrooms.
Sunscreen, water and snacks are provided for all guests. Be sure to dress warm and in layers. Avoid cotton socks and jeans as they absorb water. Warm people see more animals.
*Not included: Park entrance fees are $30 Day pass per car, $35 Week Pass per car or $80 for an annual pass. If you have a Senior, NPS Annual, or US Veterans and Active Duty Pass it is free as long as you have your pass and ID. I do not charge for a pass, as many folks already have one.
Yellow Wood Guiding is Authorized by the National Park Service, Department of Interior to conduct services in Rocky Mountain National Park. Fees for service are strictly for educational nature experiences and photography instruction, not transportation.
Check Availability
Winter Tour Fees (Total Is Shown NOT Per Person, Rate Is The Same For 1 Or 2 Guests)
| | | | | |
| --- | --- | --- | --- | --- |
| Guests | 1 | 2 | 3 | 4 |
| 3.5 Hour Tour (Most Recommend) | $225 | $225 | $260 | $295 |
| 6 Hour Tour | $400 | $400 | $445 | $490 |
| 8 Hour Tour | $525 | $525 | $585 | $645 |