Wildlife Chances on a Wildlife Tour
---
Spotting Moose, Elk, Bighorn Sheep, and Bears in Rocky Mountain National Park are common guest goals on our Estes Park Wildlife Tours. One of the most common questions I get regarding wildlife is "What can we expect to see on a Wildlife Tour?" Well, after two decades of guiding I have been able to compile some real statistics of what we see on wildlife based tours. If your tour is not a wildlife tour then your chances of seeing these animals is greatly reduced.
---
Estes Park Wildlife Tours Offered
Experience Rocky Mountain National Park Wildlife on a Private Guided Estes Park Wildlife Tour. World class Swarovski Binoculars provided for each guest, spottings scopes for distant views, and windows that go all the way down for extremely close encounters. Tours led by an expert guide with 20 years of experience showing and teaching you the wonders of our Rocky Mountain animals.
---
Bears in Rocky Mountain National Park
Many people expect all National Parks to be good places to see black bears, but bears in Rocky Mountain National Park are extremely rare sightings due to low berry options, high elevation and colder temperatures, and low carcass availibility due to lack of healthy apex predator populations like Grizzly and Wolves. Rocky's Black Bears enter hibernation in November and awaken from hibernation in April.
You do not need Bear Spray in Rocky Mountain National Park or bear bells. We do see Black Bears only a few times in May, and again in August and early September when the Choke cherries ripen. It is likely that more black bears live in the town of Estes Park than in the whole of Rocky Mountain National Park. I always like to joke that expecting to see a black bear in Rocky on any random day is like going to a Sushi resturant wanting to order a steak, it's just not the best place. Now if Elk, Moose, Bighorn Sheep, Yellow-bellied Marmots, or Pika get you excited then Rocky is one of thee best places to see them.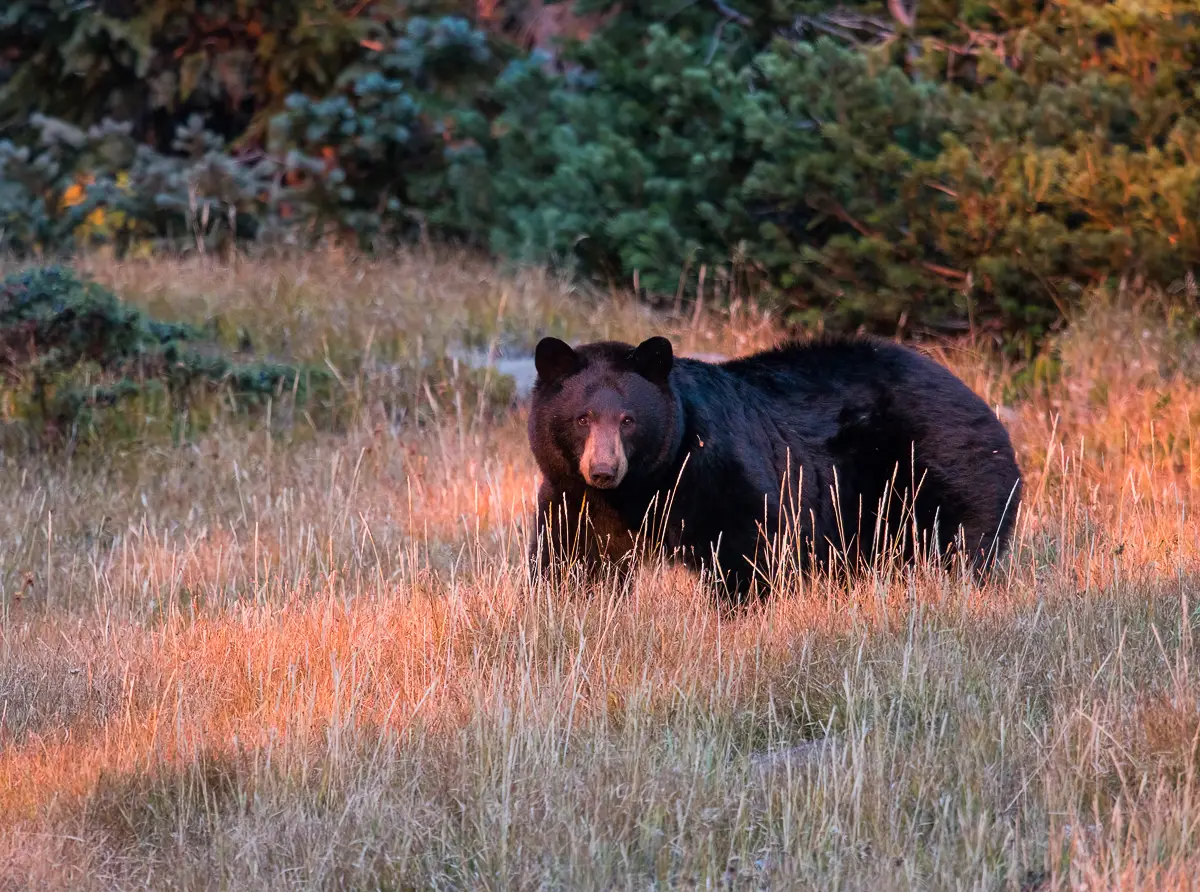 Wildlife Sighting Changes over the years
Some changes over the last decade worth sharing are Moose sightings have increased especially on the eastern side of the park with chances still low but possible in the Spring where before that was extremely rare. Sheep sightings have gone up year round. The Elk population has fallen by about 40% due to many factors, but are also migrating further east in the winter re-igniting traditional migration routes to and from the great plains. Coyote sightings have declined by a third likely due to the impact of the Wyoming Ground Squirrel population collapse in part due the 2013 floods, and fewer wintering elk.
*Currently Rocky Mountain National Park does not have Wolves or Grizzly Bears, though in the past we used to. Wolves have finally returned to Colorado as of late 2019 but none are living near Rocky yet!
---
Wildlife Sighting Chances on Rocky Mountain National Park Tour
---
The overall chances are year round. The Notes detail special times of year that your chances of a sighting increases dramatically, or the range of times the animals are seen due to season or hibernation. Population listed are estimated numbers in the park.
Species

Population

Chances

Notes

Elk

1000

99%

Winter Pop in the park 200, Estes Park Winter 400

<
Bighorn Sheep

350-450

75%

88% Late Feb - May, 15% after mid July to mid Sept

Mule Deer

300-450

95%

85% or more Mid Sept - March

Coyote

125

14%

14% Nov - May, 11% June - August

Moose

180-250

93%*

*Only during June - early Sept. , after April 15th 45%, May 60%, Winter 5%

Black Bear

20-30

2%

See less than 10 bears a year, usually May and late August to early September

Yellow-bellied Marmot
Very Common

95%

Mid April - Mid Sept.

American Pika
Very Common

90%

May - Sept.

Beaver

60-100

90%

Only Evenings Late April - Late August Only if we plan a trip for them instead of moose

Muskrat

200-300

90%

Only Evenings Late April - Early October Only if we plan a trip for them instead of moose

Least Chipmunk
Very Common

95%

Mid April - October

Pine Squirrel
Very Common

80%

Generally only found while hiking

Abert's Squirrel

1000

2%

Becoming very rare

Long-tailed Weasel

300-500

3%

May - Sept.

Badger

100

.5%

April - Sept.

Bobcat

125

1%

See 3-4 a year usually winter

Mountain Lion

24

.072%

Saw 3 over 4189 tours!

Snowshoe Hare
Common

20%

*Winter Snowshoeing Only

Great Horned Owl

200

70%*

*ONLY Late March - early June if we have public nest.

Wild Turkey

400

80%

More Common during Late Fall - Late Spring

Golden Eagle

4-12

2%

Winter increases to 3%

Bald Eagle

2-6

5%

Winter increases to 9%

Osprey

4-8

75%

If we target near Lake Estes. Nesting par at Lake Estes 2021 - 2023.
There is a large variety of other small mammals not mentioned here like Golden Mantled Ground Squirrels, Mountain Cottontails, Wyoming Ground Squirrels, Least Chipmunks, Colorado Chipmunk and various great birds that we see on a regular basis. We see them nearly every single day they are active.
There are a number of other species that do occur in Rocky Mountain National Park that we rarely see. Generally we only see these species a few times a year because they are nocturnal or avoid human activity. They include Pine Martins, Red Foxes, Pocket Gophers, various Bats, and Raccoons. If you are on a tour where you are lucky enough to see one of these animals then you have had a truly unique experience very few guests get to see.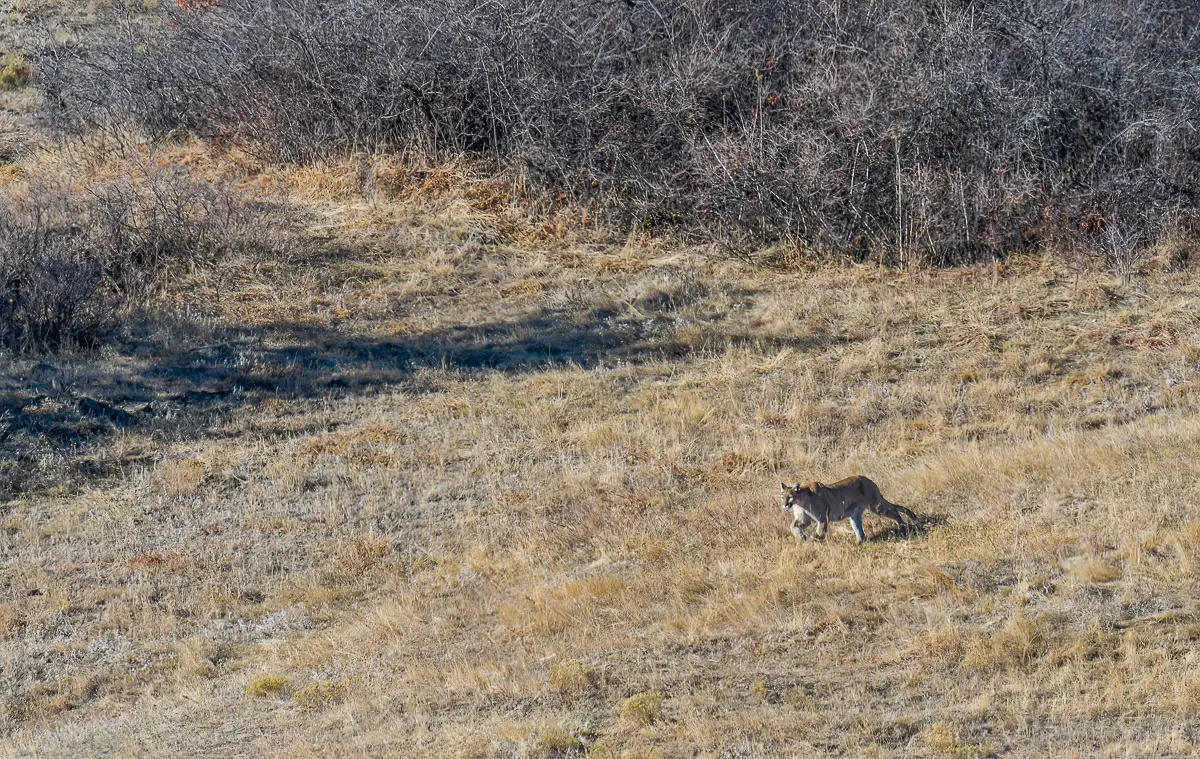 Extremely Rare Colorado Mountain Lion sighting in the daylight
Yellow Wood Guiding is Authorized by the National Park Service, Department of Interior to conduct services in Rocky Mountain National Park. Fees for service are strictly for educational nature experiences and photography instruction, not transportation.