Estes Park Photo Safari - Spring Tour Ops
What do you want to shot in the Spring?
NOTE: Unless otherwise stated these tour options can be part of a 4, 6, or 8 hour trip.

Click the Title Links to see an example of that location or option at it's best.

Don't see the option you want, we can customize a trip just for you.

Wildlife
Click for a detailed list of Wildlife
Spring Wildlife - All Spring - In the Spring season we generally see Elk, Mule Deer, Big Horn Sheep ewes everyday and Coyotes and Big Horn Rams are more rare. The Big Horn Sheep are often close to the road in April and into May. We also find Pine Squirrels, Golden Mantled Ground Squirrels, Wyoming Ground Squirrels, Magpies, and sometimes various hawks. Generally best morning and evenings. We always find something to photograph.
Moose - In the spring months Moose are about a 40% animal, usually cows but occassially bulls with small growing antlers. Often they are in dense areas, but sometimes we get very lucky and find them in one of two easier access lakes. Mid April is the start of chances, with May becoming often an 85% chance of seeing a moose in a good location and distance.
Mule Deer - Mule Deer are very common in the Spring time with mixed gender herds often at good distances. They have nicer coats than the Elk and Sheep, but only tiny numbs of antlers.
Big Horn Sheep - April - May - With the arrival of spring the Big Horn Sheep come down the mountain to eat the fresh green grass. Spring is without a doubt the best time to reliably see Big Horns, usually ewes and yearling lambs are seen, rarely we find rams. Late April and early May is thee best time to photograph rams generally. 70% chance to find Ewes, 20% chance for Rams.
Great Horned Owls Nesting - March - May - (NOTE 2022: Currently there are no activie accessible Owl nests on public land.) Some springs we have a chance for viewing and photographing Great Horn Owls nesting. This is a very long shot but from early March through late May we can get good views.
Cute Fuzzy Mammals - As the spring progresses we see more and more ground squirrels, chipmunks, and yellow-bellied marmots. All of them make great subjects, as on warm days they sit around on a warm rock a good bit getting ready for summer. May they become an everyday feature. 80% chance to find with good weather.
Elk - Just a note, the Bull Elk lose their antlers around March 15th, so by late April and through May the bulls will have small velveted nubs for antlers. Also they shed their winter coats in April - May so they can look rather unkept. 100% chance to see.
Coyotes - All Spring - The Coyotes are very active in the mid morning through mid afternoon. They are generally alone, but sometimes in a small pack hunting small rodents. We can often get within 40 yards, and sometimes they are just outside the car window. Its a great time to get them leaping through the grass. 10% chance to find, and sadly have become less common for good photos over the last few years.
Beavers or Muskrat (Eveings Onlys) - Rocky's beaver population is just starting to come back after major overgrazing from Elk destroying their habitats. Most days we can see the beavers but getting clear shots is about a 40% at our one area. In a area about 20 minutes away there is a Muskrat colony with a near 100% chance to see them close. In that same location there is a 5% chance for moose in the lake as well. They are always in very low light right before dark and almost never out in the mornings.
Sunrise
NOTE: Sunrises in the Spring are often really great when we get good weather. April and May are our wettest months so cloudy morning are very common giving us no color at all. About 40% of April mornings we get great color in the mountains, clear blue skies, very few clouds, a just a bit of wind. 60% of May Mornings are clear.
Deer Ridge Sunrise - Sunrise from Deer Ridge Overlook is a very easy to get to location with a grand panoramic view of the Front Range. You can also get great telephoto shots of the iconic Long's Peak summit and a few other great angles. From Deer Ridge we can hit many other locations and wildlife hot spots. Requires a start of 30 minutes before sunrise.
Moraine Park River Sunrise (Non-Hiking Option) - Moraine Park offers a great view of the mountains with the Big Thompson River running through a grassy meadow. This is a drive up location which requires a start of 30 minutes before sunrise. This option gives us a lot of time to head up Trail Ridge and look for wildlife.
Horseshoe Park Sunrise - If your looking for an easy set up but a great landscape. Horseshoe Park is your place. The Mummy Range gets the best morning light all winter and this is a quick and easy set of locations to get to. Sunrise happens fast so you want to prepare your location as the exposed ice changes from week to week. The start time required is 35 minutes before sunrise.
Moraine Park Grand Overlook Sunrise Medium .25 mile Hike (Sunrise or 2nd location after sunrise) - Moraine Park is a grand glacial valley, and after this short but steeper 175 foot climb we gain a fantastic high view over the entire valley, with the river snaking below in the green meadows with a large view of Stone's Peak. This short hike will take most fit people about 15 minutes with a few stops to catch your breath, so it requires a 45 minute before sunrise start. From this location we can also shoot a very nice view of Long's Peak, as well as a different view of the Mummy Range. There are also some nice flowers, lichen, fallen trees, and rocks for Macro shots. From here we can go down into Moraine Park or travel the rest of the east side of the park for wildlife or landscape options.
Sprague Lake Sunrise - Sprague Lake offers a great mountain range reflecting in a subalpine lake, dependent on the lake thawing by May. Some mornings you can get great reflections, and the wide view offers a good number of compositions. This destination requires a start time 45 minutes before sunrise. Because it is only about 25 minutes from Estes Park this starting destination can be part of a 4, 6, or 8 hour tour, and from here we can focus on more landscapes, macros and flower shots, or wildlife.
Dream Lake Hiking Sunrise (4 or 6 hour tour) Easy to Medium Hike - The trail will be icy and much more difficult in spring, so we will use traction cleats which are provided. Sunrise at Dream Lake is one of the best 1 mile hike photo spots in the park, and it produces some fantastic photos. This tour requires a start of 1 hour and 30 minutes before sunrise. In the 6 hour option we will continue up to Emerald Lake which offers more mountain views. On the way down hill we can stop at Nymph and Bear Lake for landscapes.
Sunset
NOTE: Sunsets in the Spring are very random and extremely weather dependent. the chances for a good sunset generally are about 60% in May, 40% in April. Often we have to adjust plans, so sunset is a real bet in the winter but when it comes its a great gamble.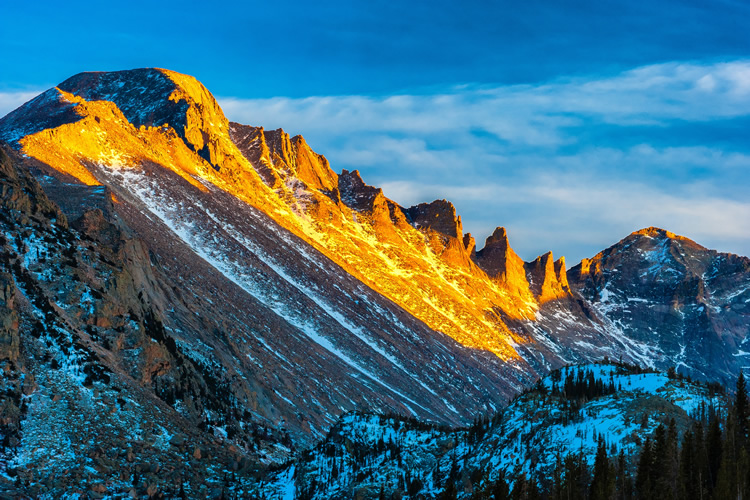 Bear Lake Sunset - This option takes us to most popular lake in Rocky, but in the winter it takes on a different look. Almost always the ice of the lake is snow covered so usually its just the amazing mountain view getting the evening light. Long's Peak from Bear Lake is thee only high peak that gets evening light in the winter time that doesn't require a rather long snowshoe trek to capture. The lake will start to melt in May.
Flower Macros
Spring Flowers - The first flowers of spring generally show up on April 5th or so. Until late April they are very rare and weather dependent. By May there is a better selection of flowers to shot. And by late May the options are great.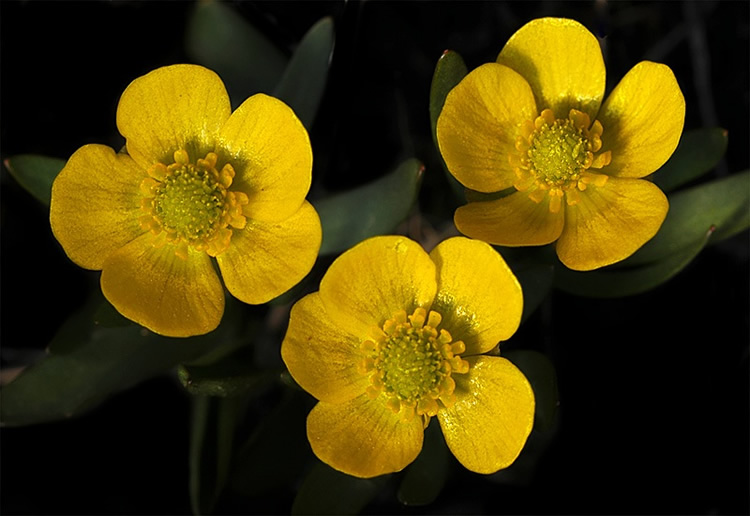 Waterfalls
Late Spring (May) offers high water and a great time to get the silky waterfall and white water. Waterfall shots are best during cloudy weather, just after sunrise still in the shade, or before sunset. Often waterfall shots are the consolation prize for a cloudy day. The park offers a number of great falls.
Glacier Creek and other Falls- May- Spring offers some great chances to photograph river cascades and waterfalls as they grow in strength as the snow melt. These can be drive up or hiking destinations. (Currently not available due to road construction)
Chasm Falls - Late May - This waterfall is a 30 minute walk up Fall River Road. Chasm Falls offers a few different shots and other white water cascades. Chasm is a great option in the late afternoon because the falls are shadowed by 5pm.