Estes Park Photo Tours - Summer Photo Ops
What do you want to shoot in the summer?
Unless otherwise stated these tour options can be part of a 4, 6, or 8 hour trip.
Don't see the option you want, we can customize a trip just for you.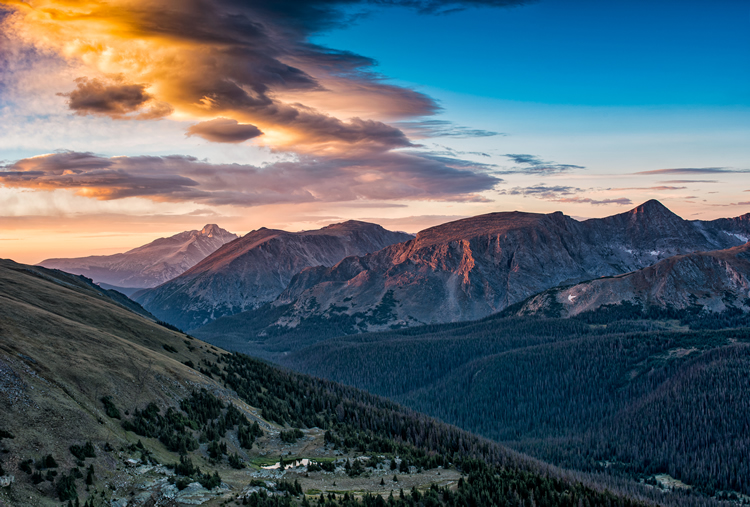 Sunrise
NOTE: Sunrises in the summer are often really great. About 70%-80% of the mornings we get great color in the mountains, clear blue skies, very few clouds, and just a bit of wind.
Moraine Park Grand Overlook Sunrise Medium .25 mile Hike (Sunrise or 2nd location after sunrise) - Moraine Park is a grand glacial valley, and after this short but steeper 175 foot climb up a loose rocky trail we gain a fantastic high view over the entire valley, with the river snaking below in the green meadows with a large view of Stone's Peak. This short hike will take most fit people about 15 minutes with a few stops to catch your breath, so it requires a 45 minute before sunrise start. From this location we can also shoot a very nice view of Long's Peak, as well as a different view of the Mummy Range. There are also some nice flowers, lichen, fallen trees, and rocks for Macro shots. From here we can go down into Moraine Park or travel the rest of the east side of the park for wildlife or landscape options.
Moraine Park River Sunrise (Non-Hiking Option) - Moraine Park offers a great view of the mountains with the Big Thompson River running through a grassy meadow. This is a drive up location which requires a start of 30 minutes before sunrise. This option gives us a lot of time to head up Trail Ridge and look for wildlife.
Sprague Lake Sunrise - Sprague Lake offers a great mountain range reflecting in a subalpine lake. Some mornings you can get great reflections, and the wide view offers a good number of compositions. This destination requires a start time 45 minutes before sunrise. Because it is only about 25 minutes from Estes Park this starting destination can be part of a 4, 6, or 8 hour tour, and from here we can focus on more landscapes, macros and flower shots, or wildlife.
Tundra Sunrise (Driving Option) - Sunrise is amazing anywhere in the park, but sunrise on the tundra can be breath taking, literally. It could be 40 degrees in the morning. But you can watch as the mountains come to life with the warm pinks and orange light of sunrise. Great for folks that also want a chance to see great elk and potentially moose or to spend more time on the tundra. This option requires a 45 minute start before sunrise.
Tundra Sunrise (Hiking Option) - For those who want to see and shot from locations few see we can take a short hike (20 minutes) from Trail Ridge Road for some grand views. We will be hiking at 12,000 feet above sea level so this option is for only fit photographers who are not nervous of heights. This also puts us into position for elk after sunrise. Starting time 1 hour 15 minutes before sunrise.
Dream Lake Sunrise (4 hour tour) Easy to Medium Hike - Sunrise at Dream Lake is one of the best 1 mile hike photo spots in the park, and it produces some fantastic photos. This tour requires a start of 1 hour and 30 minutes before sunrise. It is an easy hike for fit individuals, medium difficulty for folks from lower elevations and are not as active. This trip offers a few nice side trips like Nymph Lake, a cascading stream, and some nice reflecting pools (best in June and early July). On a 6 hour trip we can head up to Emerald Lake or focus on marco, sometimes quick small mammal wildlife, or other landscape options like Moraine Park or Sprague Lake. This option has no wildlife viewing.
Dream Lake Sunrise and Lake Haiyaha (6 hour tour) Medium Hike - Like the tour option above we photograph Dream Lake at sunrise with the 1 hour and 30 minute before sunrise start. It is an easy hike for fit individuals, medium difficulty for folks from lower elevations and are not as active. After sunrise we can photograph the cascade below Dream Lake to produce the silky water effect. Then head up the additional 1 mile to Lake Haiyaha and Chaos Creek for great reflection shots and amazingly giant rocks. This option has no wildlife viewing.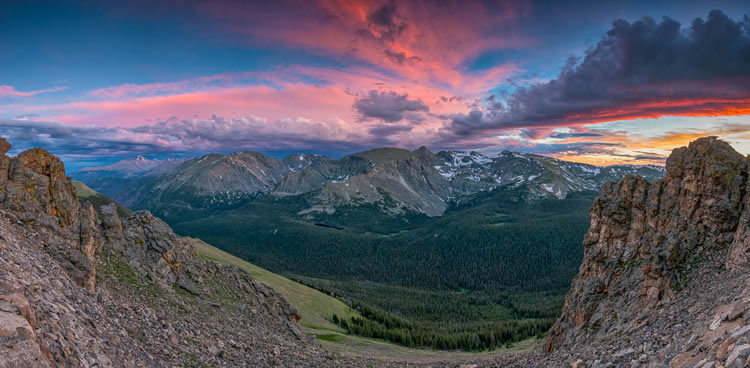 Sunset
NOTE: Sunsets in Rocky are not as reliable as sunrise. The standard summer weather pattern is blue skies in the morning with building clouds and a potential thunder storm in the afternoon. Generally right before sunset the clouds break, but there are a number of nights that the clouds never break. June sunsets are more reliable then July and August.
Evening Mountain Lake - This end of the tour option ends with an easy to get to mountain lake with great mountain scenery. We drive up to the trail head and walk around to the far side of the lake for a potential great shot.
Below Dream Lake Sunset - There is an amazing view below Dream Lake of Long's Peak and Glacier Gorge about .8 miles from the trail head. This is a trip just for landscapes, small stream shots, a some macros. We won't see wildlife but the results can be amazing. Because of the chance of afternoon /evening thunderstorms this is a gamble but if everything works out it can produce some great vast shots.
Tundra Sunset Roadside- (June 1st - early Oct) Sunset on the tundra can be amazing but also very cold. Shot from locations Ansel Adams shot and from others even more spectacular. We can literally drive up a a few great spots, hop out, walk a few yards and take amazing shots if the weather gives us a good sunset. There are 3 potentially greast shots in this one location.
Tundra Sunset Hiking- (June 1st - early Oct) There are some amazing sunset options on the Tundra that are on a trail about a mile from the road. This location is pretty taxing as we will be hiking at almost 12,000 feet so its for only fit folks looking for shots most people never get. Be sure to bring a heavy coat, gloves and a hat because it can be very cold.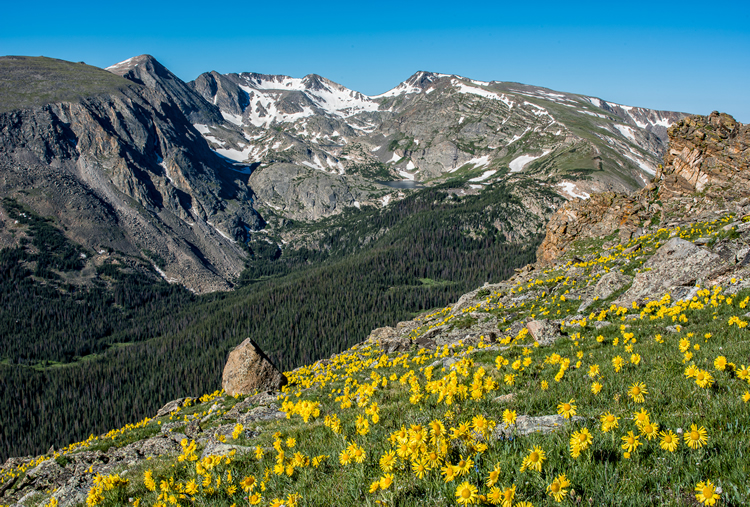 Flower Fields
Rocky sometimes offers amazing wildflower fields with vibrant colors and mountains in the background. Some years are better than others, depending on how much rain we get.
Gold Banners & Colroado Iris June 8th - 18th
Alpine Sunflowers usually peak July 3rd - 20th
Subalpine Flowers in late July and early August but few grand landscapes with flowers
Waterfalls
Waterfall shots are best during cloudy weather, just after sunrise still in the shade, or before sunset. Often waterfall shots are the consolation prize for a cloudy day. The park offers a number of great falls.
Waterfalls of Wild Basin (6 or 8 hour tour) Medium - Wild Basin is just that, Wild, with a number of great waterfalls. This option is a 4-6 mile round trip hike, and is best when we have cloudy weather. I would generally only recommend this option as a Plan B when the weather is cloudy and drizzly which prevents the more grand landscape options and is perfect for water shots.
Fall River Flowers and Chasm Falls - Fall River Road in summer offers plenty of great individual flower shots for marco fans, and Chasm Falls. Available for any length tour from July - August. We wrap up driving down Trail Ridge so wildlife and more scenery awaits the downhill journey.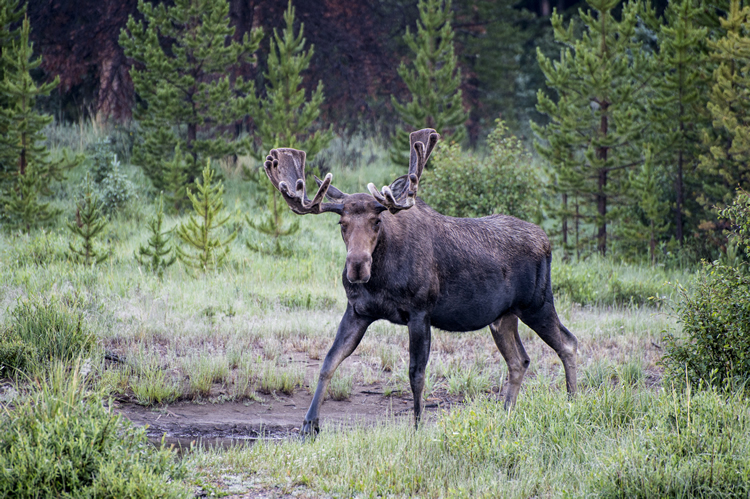 Wildlife
Wildlife shooting in the summer months offers a lot of variety. Often we have to choose between Moose and Elk or Sunrise and Sunset Landscapes at they are best at the same time in very different locations.


Click for a detailed list of Wildlife

Baby Animals- June and July, best frist two weeks of June - Find baby elk, moose, and mule deer roaming the park. Best early and late in the day. 60% chance to see.

Bull Elk in velvet - June and July - Elk will sometimes be within easy photographible distances as they finish grazing for the morning or right at dusk. By early summer their racks are impressive. Though not always predictable but great when it occurs, best in the early morning in June and morning or evening late June through August. 70% chance to see.

Elk loosing velvet - August 8th-16th - With some luck we can find bulls in the process of loosing their velvet. This is highly dependent on weather and luck that they are close enough to get a shot. 40% chance to see.

Pikas and Marmots - Good all summer, Pikas are best in July and early August, the Marmots are best mid July through August but we see them every day throughout the summer. 90% chance with good weather.

Moose - One of the major targets, we find them regularly at great distance but can be challenging at times to get good photos. We mostly find cows and calves, but sometimes we do find bulls. This tour takes some patience to get the shots, and requires at least 3 hours of drive time round trip. 93% chance to see, 45% chance they are close. Most reliable in June with 5-8 close sightings, possible in July with usually 1 maybe 2 close sighting, and decreasing in August down to some days not getting a close sighting. There are a few lakes we can also visit instead of higher elevation locations but there are no other animals in those areas and it often takes all 4 hours to get a 65% at a good moose photos.

Coyotes and Small Mammals - Late July and August is a great time to photograph small mammals and coyotes as they are still very active, often feeding on berry bushes. They can be seen all summer however. 11% chance to see coyote.

Beavers or Muskrat (Evenings Only) - Rocky's beaver population is just starting to come back after major overgrazing from Elk destroying their habitats. Most days we can see the beavers but getting clear shots is about a 40% at our one area. In a area about 20 minutes away there is a Muskrat colony with a near 100% chance to see them close. In that same location there is a 5% chance for moose in the lake as well. They are always in very low light right before dark and almost never out in the mornings.
Macro
Alpine Flowers - Mid June to July - The alpine flowers offer a great subject for macro photography with vibrant colors and great shapes and patterns. The downside is its often windy and chilly to down right cold up there. But worth it.
Flowers in general - The entire summer has a constant march of amazing flowers to shot. June, July, and early August have the most diversity.